Are you born to be a leader? Do you have strong communication skills and like solving problems? Then a career as a program manager might be in your future! Program management is a rewarding and in-demand job in which you'll assist your organization's vision, strategy, and outcomes achieve long-term value.
What are some of the additional characteristics of a good program manager? A comprehensive program manager job description, including strategic roles, management responsibilities, and skills may be found in this article. You will discover all you need to know about how to become a program manager and why it's such a rewarding and rewarding career.
Introduction to Program Manager 
The efforts of different project management institutions and organizations across the world have resulted in a considerable rise in project and program management maturity during the last two decades.
In the purpose of this article, program management differs from project management not in scope but in the fundamental management aspects that have been thoroughly developed and defined over the last decade. The publication of Managing Successful Programs (Office of Government Commerce [OGC], 2003) was a key step toward this knowledge (2007). Accordingly, the definition of program management can be understood as the activity of carrying out the coordinated organization, direction, and implementation of a dossier of projects and transformation activities to accomplish results and realize advantages of strategic importance to the business. It clearly specifies the role of the business change manager, which is the most critical difference between project and program management responsibilities.
There is still considerable ambiguity about the responsibilities of the numerous parties in program management and their peers in project management today. The purpose of this article is to lay out and define the key positions, their duties, and the skills necessary to fulfill those obligations which may be included in a job description for program manager. 
In the next paragraph, we will learn more about program management job description which may help you have an overview of how to become a program manager with basic definitions of role, responsibilities, and skills as well as those elements of a program manager.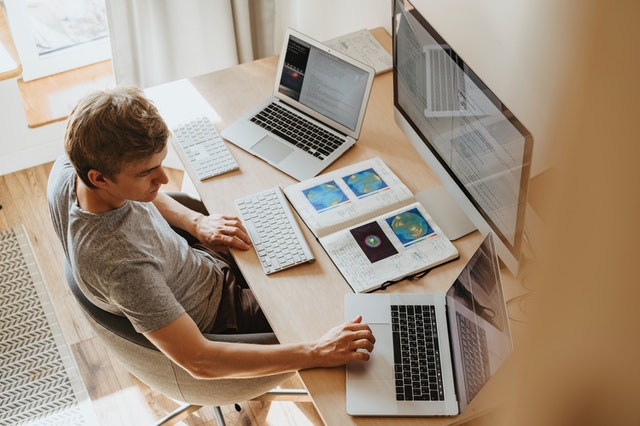 What is a program manager?
As a manager of a program, he or she will outline its goals and strategies and assess how it will impact the business. It is important that he or she defines and oversees a list of dependent projects needed to meet the program's overall goals.
Differences between program manager vs project manager
A program manager oversees a group of projects; a project manager oversees an individual project

A program manager's focus is on the long-term, while a project manager's focus is on short-term objectives

Project managers are tactical, while program managers are strategic
Find out more about What is a project manager?
Program Manager Job Description
Role
Each job has at least one role that must be performed. Depending on the needs and phase of the program life cycle, there are typically several roles connected with each position in project and program management. Program manager, planning coordinator, senior user, and other roles in program management are common.
Responsibility
There are a set of responsibilities that come with each position you take on. Not all associated responsibilities, however, must be met on a consistent basis. Responsibilities are different based on the type of initiative and where the program is in its life cycle. Quality control, management reporting, risk management, and so on are examples of responsibilities.
Skills and Attributes
A skill or group of skills is necessary to execute a responsibility properly. Training, experience, or a mix of both are often used to gain skills. Communication, planning, and leadership are examples of skills.
Certain characteristics are sometimes required to help in the efficient use of skills. Training and experience might also be used to develop such attributes. These can, however, be personal attributes that were ingrained in us throughout our formative years. Confidence, logical reasoning, and charm are examples of qualities related to these skills.
Understanding the link between a job, the role(s) engaged, the responsibilities held, and the skills necessary to do the work is critical. It will be difficult to put together an effective program management team without a clear understanding of these.
Roles, Responsibilities, and Skills of Program Manager
A project, or a series of projects, will be part of any program, regardless of its structure, objective, or outcome (or a mix of projects and other programs). That is to say, projects are built into every program by default, and as a result, project management responsibilities must be included as well. Project manager, customer, senior user, planning coordinator, and other positions fall under this category. In this essay, we'll look at the main responsibilities of program managers on the inside of a program.
A program manager is similar to a "super" project manager. Since this individual is in charge of planning and governance, as well as monitoring the effective delivery of the program's output/product, his or her function is mostly operational. That is, the new capability.
Although business knowledge is vital, his or her program management skills are emphasized more. The program manager must have prior experience managing big and complicated projects as a project manager.
Program manager responsibility
Managing the program on a daily basis throughout its life cycle;

Defining the governance (controls) of the program;

Organizing the overall program and keeping track on its development;

Budget management for the program;

Managing risks and problems, as well as taking remedial action;

Project coordination and interdependencies;

Managing and putting resources to good use across several projects;

Managing communication with stakeholders;

With the help of the business change manager, align the deliverables or outputs to the program's "outcome."

Keeping track of important program documents, such as the program initiation document.
The program manager's skills and attributes
The program manager must have extensive project management expertise, preferably obtained via the administration of large and complex projects. The program manager must have the following skills:
A thorough understanding of project and program management methodologies and techniques, as well as the ability to apply them;

Good understanding of the program's overall goals;

Ability to work well with a diverse group of people participating in program management;

Leadership and management skills;

Budgeting and resource allocation methods are well-understood.

The capacity to come up with innovative solutions to issues.
Acquiring Skills for the Role
There is no question that our personal attributes influence our capacity to use certain skills, distinguishing between "academic understanding of how" and "practical ability to implement how." However, this is very subjective to both the talent and the individual in the issue, thus no universal norm can be created.
Regardless, understanding some skills are simpler to master than others is really useful. Then, each person must be honest with themselves while determining whether or not to engage in such a learning endeavor.
One may argue, for example, that communication skills can be acquired and that with effort, a driven but inept communicator can improve. Leadership skills, on the other hand, are unlikely to be gained through reading and training at a mature age, therefore if one lacks leadership skills, he or she should recognize this and focus on their stronger attributes and acquirable abilities.
Drawing a basic matrix for each role and outlining the skills necessary for the job versus the skills held by each candidate is a useful tool for assigning the various jobs in a program.
In conclusion
Although most project management roles are present in programs (since programs contain projects), there are roles within program management that have distinct responsibilities and, as a result, need different skills than their counterparts in projects. Program management, unlike project management which concerning with outputs (products or deliverables), is focused with outcomes, or the final result produced through the utilization of such outputs. The most important distinction between the two disciplines may be seen in the role of the business change manager.
When choosing the program's board of directors and staff, it's important to consider the skills required for the various roles within the program. Some skills may be taught, while others are more difficult to learn or acquire if you don't already have them.
Program managers are critical to organizational effectiveness in all sectors and industries because they possess strategic, essential skills. To guarantee overall program success, these business-savvy experts must successfully communicate goals, manage projects, and lead teams. It's a genuinely unusual profession that requires both creativity and rationality, as well as strategic and instinctual thinking.
Are you willing to take on the challenge? If so, you'll find a plethora of opportunities in this interesting field.
We hope our information about the program manager job description will definitely help you have a better start to your program manager career.
Visit our websites to get more information and free PMP Practice Test. To download, visit our website for your IOS or Android device.