Being in charge of a project is not an easy task. Might seem like you're walking through a minefield if you don't have the appropriate foundation. When you're blindfolded. Certification can help you obtain the skills you need for the work while also allowing you to earn more money. But, if you have to choose between PMP and Scrum, which would benefit your career the most? Which project management training and certification should you pursue?
In this post, we'll compare the Scrum vs PMP certifications, as well as their costs, impact on salary, and the differences in the methods themselves.
Scrum vs PMP Certification
You have a variety of options if you want to get a formal certification for your project management skills. 
However, the PMI Institute's Project Management Professional (PMP) credential is the most common. It's particularly useful for organizations that take a more traditional project management strategy. The Project Management Body of Knowledge (PMBOK) approach, which is sometimes conflated with the Waterfall model, provides the foundation for the PMP credential. 
If you wish to work for a smaller, more agile company, such as a breakthrough startup, the chances are that they use Scrum. Scrum has two main certifications: Scrum Alliance's Certified ScrumMaster (CSM) and Scrum.org's Professional Scrum Master (PSM).
The PSM certification is held by 341,882 Scrum masters.
Before we continue, it's important to note that Scrum certification is different from Agile certification.
Having the PSM or CSM certificate demonstrates that you have a basic understanding of Agile, since you must be familiar with the overall Agile principles and values.
However, it only qualifies you for Scrum, a single Agile framework.
You'll need to look at other certification choices, such as becoming a Certified Agile Coach, if you wish to consult companies on Agile transformation or work for a company that uses a different framework, such as SAFe.
Now that it's out of the way, let's go back to Scrum vs PMP! The next part will show the difference between SCRUM and PMP.
If you want to know more about PMP certification, you can read the PMP Certification Requirement 
Scrum Master vs PMP salary
According to Glassdoor, the average project manager salary in the United States is $66,137 per year.
The official salary survey conducted by the PMI showed a much greater yearly income. An average salary of $116,000 was reported by respondents.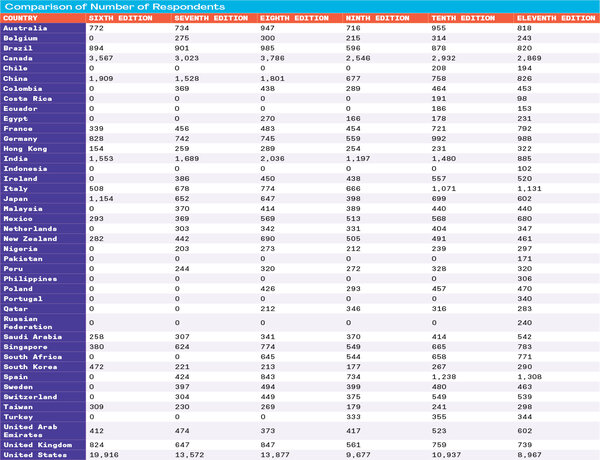 Source: PMI
On average, project managers holding the PMP certification earned a 22 percent higher income.
The average Scrum Master certification salary in the United States is $97,319, according to Glassdoor.
According to the 2019 Scrum Master Trends study, 51% of respondents said the Scrum Master salary is $75,000 or more annually. The highest earners are distinguished by their certification.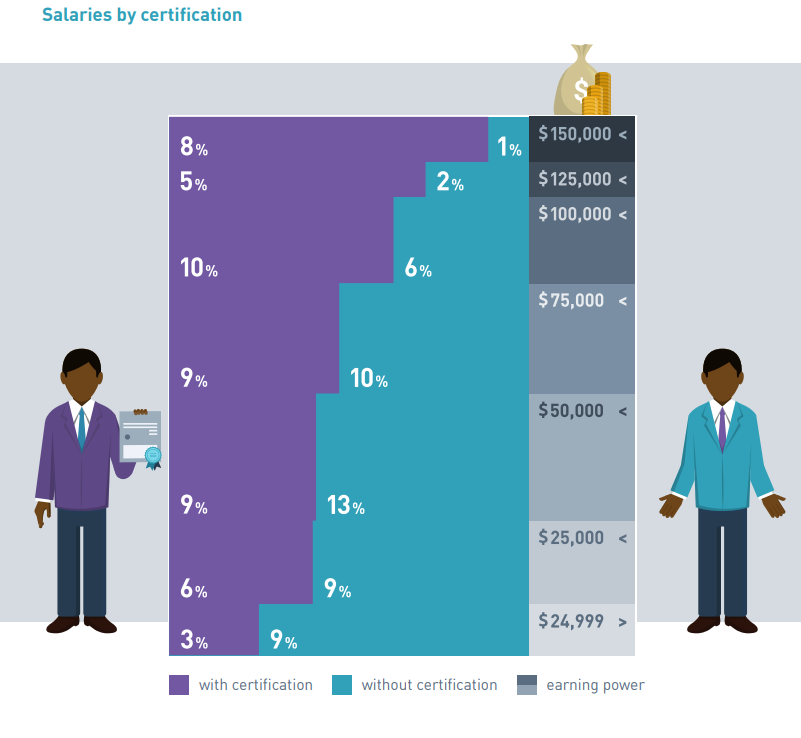 Source: 2019 Scrum Master Trends
To summarize all of those figures:
The PMP and Scrum certifications both appear to have a direct influence on earning potential.

However, someone with a PMP makes more money than someone with a Scrum certification.
Cost of PMP and Scrum Master certification 
It costs $550 to take the PMP test and get certified (USD). 
The course can cost up to $3,000 in training, however the PMP handbook or PMBOK guide can be used to self-study the principles. Each of these books costs about $60.
Let's take a deeper look at the costs of Scrum certifications.
The PSM1 certification exam is $150, while formal training courses start at $500.
Typically, the CSM test is only given as part of a CSM course. The cost of a course might range from $595 to $1,500. The cost of a course is determined by its location, teacher, and whether it is offered in person or online.
Which is better: PMP or Scrum Master?
The salary implications and certification expenses are insufficiently different to make one option the clear winner. As a result, it is highly dependent on your career objectives and current experience.
Do you wish to work in a field that follows the PMBOK guidelines? The PMP certification is the way to go.
Do you wish to work with startups, tech, and other innovative companies as part of small Agile Scrum Teams? You should pursue certification as a Scrum master.
If you consider taking the PMP test, you can read How to pass the PMP exam on your first try
Scrum vs PMP: Method
Next, let's look at how each option's project management methodology works in practice.
Let's start with the PMBOK model because PMP is centered on it.
The PMBOK model
People used to equate PMBOK with the top-down Waterfall approach in the past. This is due to the fact that it separates project management into five phases or process groups.
The PMBOK, on the other hand, focuses on overarching principles rather than methods.
Initiating

Planning

Executing

Monitoring and controlling

Closing
Many of the PMBOK principles may be used in the context of a single Sprint or cycle in Agile or Scrum – you're just completing the five phases once each iteration instead of once per project.
However, most of the PMBOK guide is designed with the assumption that you'll be utilizing a top-down, pre-planned framework like Waterfall.
It also tends to place a heavy emphasis on documentation, which Agile discourages.
Scrum framework
Scrum is a framework created specifically for Agile methodologies. Rather than attempting to adapt PMBOK to work with Agile, Scrum provides a clear, step-by-step solution.
Rather than following five clearly defined stages that occur just once throughout a project, larger projects are divided into smaller sprints that run 1–4 weeks.
Within each sprint, there are still 5 different phases, although they are known by various names:
Pre-planning (or Backlog refinement)

Planning (aka Sprint planning)

Working (Execution)

Sprint review (or Product increment review)

Retrospective
What is the difference between PMP (PMBOK) and Agile?
Both the PMBOK and Agile methodologies recommend high-level principles rather than a specific framework to assist your decision-making.
The most distinguishing factor between PMBOK and Agile is their approach to change and stakeholder involvement.
Change is seen as a necessary evil in the PMBOK, which emphasizes structure and control. Agile, on the other hand, is a mindset that accepts and promotes change.
Stakeholders are mostly involved in early-stage planning in the PMBOK. However, with Agile, cooperation occurs throughout the project.
Scrum vs PMP: Sometimes the right choice is both
Unfortunately, as with most things in life, there is no one-size-fits-all solution.
Scrum will be the obvious choice for certain businesses, while PMBOK will work better for others.
For many people, the ideal option is to use both approaches in various areas.
You may also choose to get both certificates over time.
PMBOK for familiar or ongoing projects
You don't need a revolutionary approach if you know your project inside and out.
Would an agency supplying copy or creative to a repeat customer find clear benefits from forming a Scrum team for the 100th time? Most likely not.
Using PMBOK principles inside your existing team structure is generally your best choice for predictable, known projects.
The Work Breakdown Structure (WBS) in the PMBOK is a good place to start.
Scrum for new and unpredictable projects
Working inside the limitations of a traditional workflow, on the other hand, isn't always the greatest option.
The Scrum framework is ideal for new projects, such as developing a new product for a new vertical.
Finding a logical product owner is a smart place to start. They might be a significant customer or someone who knows everything there is to know about your customers.
If you're creating proposal software for salespeople, for example, your internal sales manager may be an excellent Scrum product owner.
The product vision and backlog are user-centric, rather than technical or feature-centric. As a result, even a non-technical person may highlight user stories (features from the user's point of view).
This will assist you in determining the project's scope and building a complete Scrum team with all of the skills required to finish it.
With an Agile project strategy, you can get up and running quickly and adapt as the market and client base change. You can build an innovative product that people want even if you have no prior market experience.
About other types of project management certification besides SCRUM, read more about CAPM and PMP.
PMP vs Scrum vs Agile
Agile and PMP or Project Management Professional Certifications depend on where you wish to use your skills
Conclusion
Both the PMP vs Scrum certification have their own ways of contributing to your overall objective. So, It all boils down to your ambitions for the future. You can choose whatever certification will be most beneficial to you and pursue it. This article is a brief rundown of everything we spoke about Scrum vs PMP.
Visit our websites to get more information and a free PMP Practice Test. To download, visit our website for your IOS or Android device.